Protein Partner's sales team is made up of Chuck Loper, Leslie Wright, Mike Cline, and Steve Johnson. Together they have over 100 years of experience in the sales and marketing of protein products.

Our support team consists of Beth Affleck, Vicki Brown, Keeley Arredondo, and Andrea Phebus who handle all of the logistical and administrative needs for our company.

CONTACT INFO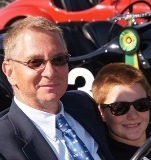 Chuck Loper - Seafood - Beef - Chuck is the co-owner of Protein Partner with his partner, Leslie Wright. He has been in the food service industry for over 39 years; primarily dealing with meat products. Chuck has owned his own meat processing plant, serving several resorts and every major hotel chain in Orlando, FL. He has also been the manager of a seafood distributing plant. With years of experience in this industry, Chuck is ready to assist you with all of your protein needs.

Chuck has six children, ranging from the ages of 31 to 12. He enjoys spending time with his kids, working outdoors, skiing, serving as president of his children's' school board, collecting old cars and going to car shows.

Contacting Chuck: Toll Free at 888.659.6328 (MEAT) or Fax 888.659.3861


Leslie Wright - Beef - Leslie is the co-owner of Protein Partner with her partner, Chuck Loper. She has been in sales for over 35 years. She focuses her energy on buying the best product at the right price to maintain the profitability of her customers. Leslie's main focus is high end beef. She works mainly from the Bozeman Montana office.

Together with her husband, Arch, and children Van and Lexi, she enjoys horseback riding, skiing, traveling and new challenges.

Contacting Leslie: Toll Free at 888.476.6328 (MEAT) or 406.586.0350 or Fax 888.267.1099


Mike Cline - Pork - Poultry - Beef - Mike specializes in pork but he also buys and sells beef and poultry. He has been in the meat business for over eleven years. Mike is ready to assist you from his office in Avon, Colorado.

Mike enjoys skiing, fishing, golfing, and spending time with his wife, Shannon, and sons, Pete and Brian.

Contacting Mike: Toll Free at 888.587.6328 (MEAT) or 970.790.6328 (MEAT) or Fax 970.790.6343

503.699.8926 or Fax 503.699.8937


Beth Affleck

970.790.6329 or Fax 970.926.7832

970.790.6333 or Fax 888.507.2275


Andrea Phebus

570.795.3981 or Fax 570.468.8834


Keeley Arredondo

406.586.0350 or Fax 406.545.2206